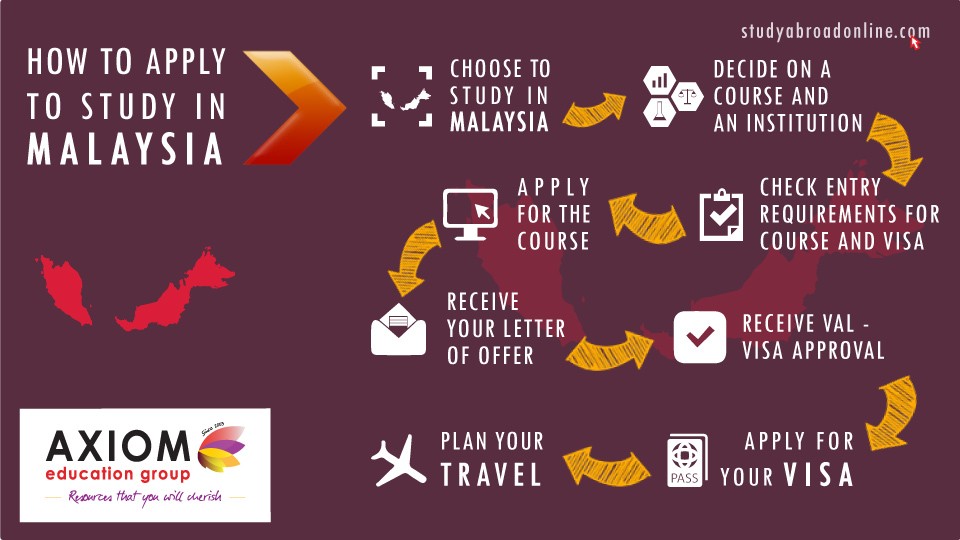 Axiom offers professional guidance to Bangladeshi students who intend to study in Malaysia. We'll be with you on each step from the initial general consultations to arriving in the country.
We'll review your academic, professional and financial circumstances along with your future study and career plan. According to your needs, we'll assist you in selecting a suitable course, place of study & all other related issues. You'll get proper guidance from us, which will fully comply with the updated visa requirements.
Our dedicated and well-experienced counselors are always ready to assist you in every step, such as your first visit to our office, admission, visa procedure etc. until your departure to your desired destination.
The typical procedure that you must take before starting your study in Malaysia is as follows:
---
Attend a counseling session at Axiom
Attend a counseling session at Axiom to find out your options relating to choose the courses and institutions aligned with your career plans.
To explore more study options in Malaysia, Get your FREE Download Guide!
To meet your Axiom Education Advisor Get an Appointment
Register in Axiom
Register with Axiom to start the admission and visa process. We can help you navigate through the various processes and make studying overseas easier. Remember, all our services are free of charge!
Apply for admission
Once you've decided what and where you want to study, your Axiom education advisors help you-
 Complete the application to the institutions of your choice.
 Prepare application documents
 Arrange to send the application fee
We'll also provide you with a checklist for the documents.
At the time of application for admission, you'll be required to submit several documents including proof of previous academic qualifications and, in most cases, proof of your English language ability.
Prepare & appear for Standardized Admissions Tests and join AGI (Axiom Global Institute) to sit for the exams required for the application. E.g. IELTS, TOEFL®, TOEIC and EMGS Registered Clinics List , New Health Screening Form
By submitting your application through us you'll be able to track the progress of your application as we send you automatic notifications of its progress. We also take the hard work out of tracking the applications by keeping in contact with the institution on your behalf.
Transfer EMGS Fees
Once you accept the offer, your education service provider/institute of higher education will apply for your Student Pass on your behalf. You'll need to transfer the visa processing fee at the same time as medical screening and immigration fees.
You'll also be required to go for a medical check-up in Bangladesh at EMGS approved Panel Clinics. The results will be submitted to EMGS electronically and is a part of the requirements for your Visa Application.
Visa Approval Letter
Once your 'Visa Approval Letter' (VAL) is approved, the next step is to pay the tuition fee. Most Malaysian institutions require you to pay the first-year fee only. You can choose to pay this fee through either Telegraphic Transfer (TT) or Direct Debit (DD). Our value-added services department at Axiom can help you arrange either of these payment methods.
Once the institutions have received and processed your tuition fee payment, they'll dispatch the original offer letter & VAL by courier to Axiom. Once we've received this, we'll notify you that it is now time to start the visa application process.
N.B. Students must also obtain the 'Visa Approval Letter' (VAL) before entering Malaysia.
Apply for Visa
Fill up the visa application form and submit it with passport and other relevant documents at High Commission of Malaysia to obtain a single entry permit.
Axiom will keep you updated as to the progress of your application and take the hard work out of tracking your application by keeping in contact with the visa office on your behalf.
Plan your Travel
At Axiom, we can help you organize your travel arrangements to begin your new student life in Malaysia. Axiom offers help and advice with sorting out suitable student accommodation, booking travel, opening a bank account, insurance and foreign exchange can all be arranged through us to make studying overseas easier!
Get your all study related matters in Malaysia !